So, first stop was the Okelberry home. We didn't have an address, but I remembered that it was 200 something and it was on a corner. That's good enough, right? Well, in a town as small as Goshen, that's all you really need, so we drove around until we figured out where it was (took us less than 5 minutes). I recognized the brick home from the pictures I've seen, plus my grandma pointed it out to me in person a few years ago when we were in Goshen for her Aunt Mabel's funeral.
So, I opened the iron gate and knocked on the door. I'm not even sure that front door had been opened in years, the structure of the porch was a little "iffy," and it didn't appear that too many people actually went to the front door (can you blame them with the furious beast tied up in back?), but I ventured anyway.
It took the man over a minute to open the door, I think he had to move furniture or something, and when he finally opened it, he only cracked it about a foot. His unshaven face and bare chest had me wondering if he had just thrown on some pants to answer the door, and by the look on his face, I knew I was intruding upon his time and property. I wondered if he was holding a rifle in his hand behind the door because he had such a distrusting look about him.
I told him that I was in the area doing family history and wanted to take some outdoor pictures of his house because my grandma was born in it. He looked at me like he didn't believe me, and asked who my grandma was. I told him her name. He said, "No. I don't think so. This home has always belonged to the Whites."
Surely, he doesn't know this family history, I thought. I responded, "Yes! The Whites! That's all a part of the same family. Again, he shot me a look of disbelief. I continued, "John Watson White... and the Okelberrys..." I guess the name Okelberry was the keyword because he nodded his head in agreement and said, "Alright. Go ahead." And waved me off. With that, I thanked him, he closed the door, and that was the end of it!
So, I stood with my girls in front of the iconic iron fence and Steve snapped our pictures. Below is a photo of my great-greats in front of the same fence, only their backs are to the mountains, not their home.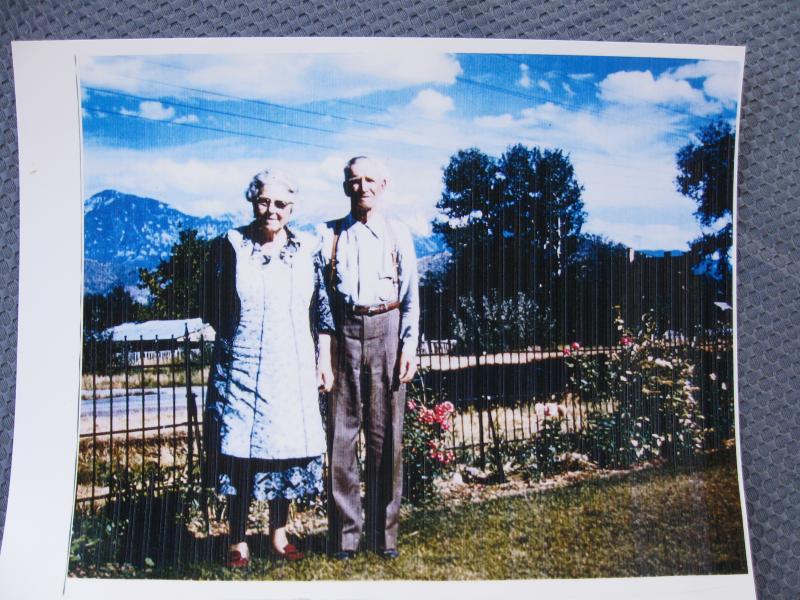 Winona White Okelberry and Everett J. Okelberry
I must admit that I had hoped that the current occupants of the Okelberry home would find my family history search compelling and invite my family in for a tour and tell me all they knew about the home, maybe even offer the kids some cookies. However, once I arrived I felt unwelcome and I was just happy to get a few photos of the exterior.
So, like I said before, my grandma was born in this home, although it was actually her grandparent's home. Her parents were in between homes as they were in the process of moving from Flin Flon, Canada to Dividend, Utah (a few miles from Goshen), and it was at this time that they were staying with "Grandma and Grandpa Okelberry"that my grandma was born. Shortly after, my grandma's dad got more hours at the mine, and the family moved to the company town of Dividend.
I loved finding out that the Okelberry home was a gathering place that brought friends and family together, building bonds and molding memories. According to my grandma, the whole Okelberry family loved to sing, yet she feels that talent never came naturally to her. A neighbor of the Okelberrys reminisced that after church on Sundays, the Okelberrys would come home, open up the windows, sing and play the piano, and all the neighbors would gather and sit out on the lawn to listen and sing along and be together. If I ever get to time travel, I'm going to back to that time and place to witness the unity and friendship that home provided.
There was an instance when the Okelberry family were entertaining company in the parlor, talking and singing, just having a great time. Their youngest daughter, 3-year-old Mabel, was one that never wanted to miss out on any of the fun. She was busily playing on the floor, then she suddenly got up brought her potty pot into the center of the living room (this was before the home had indoor plumbing), dropped her bloomers to her ankles, and with all eyes on her, she did her business in the middle of the party. Everyone had a good laugh. I wonder what other stories the walls would tell!
My grandma related to me that Goshen didn't have much in the way of shopping, so they would often travel to Payson to do their shopping.
After Aunty Mabel's funeral in July 2011, I was able to see the following antiques that used to be a part of the Okelberry's daily lives. They are in the possession of my grandma's cousin, Susan Egan, that lives in Spanish Fork.
The butter stamp Winona used for the butter she made and sold.
This recipe book is a treasure! I wrote
another blogpost about it here
.
A lovely chest.
Their bed and rocking chair.
While at her home, Susan showed me a picture of the old farm that belonged to Everett and Winona. If this farm was in their backyard, it's sure not there anymore. But, here's the picture:
At my grandparent's 60th wedding anniversary, I interviewed them, and my grandma spoke about her grandparents~
Leta: I guess that would be my grandparents, Everett and Winona Okelberry in Goshen, Utah.

Grandpa was a sheepherder, he ran sheep.

It was really exciting to be down to their place when, they take the sheep up in the mountains in the summer and raise them and everything, then they bring them back in the fall for harvest.

And it was really exciting to be there with all the sheep in the barnyard.

I was only 8 or 10 years old, I just watched.

I got to help ___ once in a while.

Grandma she ran the household and Grandpa ran the yard.

They had a, well, if you're ever in Goshen, if you go up Main Street about 2 blocks and I think it was there around their house, the house is still there, a little older than them.

Big yard for a garden out in the back of the house by the barnyard.

I think at that time my dad was working for Tintic Standard Mining in Dividend, Utah, which is no longer there.
Before we left the Okelberry home, I had Steve take a few pictures of the backyard. I intended to show it to my grandma when I went to visit her this summer, but I didn't bring the pictures with me. But, here is what the house looks like now. I'd like to ask my grandma how things have changed.
On the main street in Goshen, you see this unattractive apartment.
Paint peeling on the side of the building
front corner of the store, now an apartment
The store was that 2 story orange building on the right.
As you drive out of Goshen back towards Santaquin, you see the remains of the mining industry on the mountainside.
Just below this structure on the mountainside, there are natural pools where my grandma remembers going swimming with her daddy. He would swim around with her on his back when she was just a little girl.
I loved getting to know my ancestors a little better by visiting the town they called home. I hope you enjoyed getting to know them a little better too!